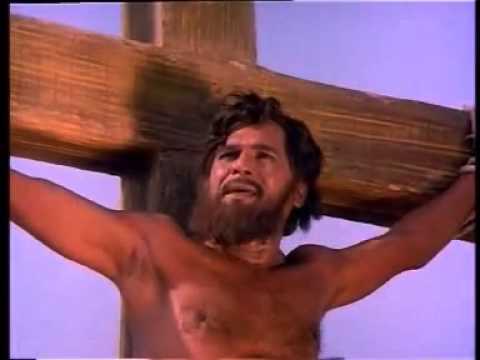 Tamil Cinema industry, one of the leading cinema industries in the world, produced approximately 6500 cinemas, a force influencing Tamil Society, Culture and Politics, produced chief ministers like M.Karunanithi, M.G.R and J. Jayalalitha, has not yet produced a single cinema on Jesus Christ. Surprisingly, Swamikannu Vincent, one of the earliest exhibitor in Tamil Nadu, screened the first show of the silent movie 'Life of Jesus Christ' in 1905, in St.Joseph's School, Trichy, using the equipment purchased from a French Man called Dupont along with that movie, and started touring the major cities in the then Madras Presidency and India under British rule, to screen the movie. The silent movie, Life of Christ, was not produced by any of the native film producers or film makers from Tamil Cinema world.
There were few dubbed versions of the cinemas from Malayalam (Jesus) and Telugu (Karuna Moorthy) on the Life of Jesus. Jesus (1973), a Malayalam movie, was directed by P.A. Thomas, starring Murali das (Jesus) Gemini Ganesan (John the Baptist), Jayabharathi, Jayalalitha, Thikkurissy, M. N. Nambiar (Judas) and others. K.J. Yesudas and M.S. Viswanathan composed music. Karuna Moorthy (1978), a Telugu film, was directed by A.Bhimsingh, starring Vijay Chander (Jesus) and the music was composed by B.Gopalam.
We understand that M.G.R, a doyen in Tamil Cinema, was interested in acting like Christ and movie on Christ titled Yesunathar in which M.G.R, willing to the role as Jesus, was started in 1970 and then dropped after the Pooja (inauguration rites). Two still photographs were released in those days along with the poster. Renowned dialogue writer M.Karunanithi wrote the script. M.G.R expressed his unwillingness to the film crew that people would start worshipping his images (images of MGR as Jesus) thinking him as Jesus, which he felt not good. However, he played a role in a cinema called Pallandu Vazhga (1975) as a Jailor, who will try transform six murderous criminals, by showing them love and teaching good values, which is a kind of role where Christ is manifested, though it has usual cinematic commercial elements. It was directed by veteran director K. Shankar and music was composed by K.V. Mahadevan. It is a remake of one the Hindi classic movie by legendary film director V.Shantharam Do Aankhen Barah Haath (1957).
The dubbed cinemas Passion of Christ and Son of God are holly wood produces and screened to Tamil Audience. Holly wood, Tamil Cinema imitates a lot on the content, produces cinemas on Jesus or the subjects associated with Christ not so frequently. Mel Gibson, one of the prominent film maker in Holly wood, produced and directed the movie Passion of Christ (2004) and also directed a movie Hacksaw Ridge (2016), which sets on a biblical principle, based on a true story of an American soldier Desmond Doss, in Second World War, are some best examples.
The reasons behind why there are no ventures on making cinemas on the Life of Christ is probably the small audience space in the Tamil speaking world, for Jesus Christ. The market for Jesus is not promising in the Tamil Speaking World as in Holly Wood. When Jesus finds no place in Tamil Cinema, the Christians, do find a different kind of narrative space in Tamil Cinemas. The villain names are predominantly Christians like "Mark Antony" in Rajinikanth starring Bassha (1995), and cabaret dancers are mostly Mary or Rosy and in best/worst case is Julie. Ratsasan (2018), though it is one of the best thriller Tamil cinema of recent times, has anti-Christian elements interwoven throughout its presentation. Muslims are generally depicted either as butchers or terrorists. The kind of representation the transgenders get is horrible, and the comic scenes in Tamil cinema on the differently-abled people are also so intolerable like the comic scenes on a hunch backed man in Surya's Perazhagan (2004).
Vetri Maran's Vada Chennai (2018), said to have set standards for Gangster movies, presents the oppressed, marginalized community of North Chennai as bloodthirsty, treacherous rowdies, murderers and drug smugglers/sellers. Invariably all speak abuses, so commonly even son to father, girl to her lover are no exception. My simple question is - Can't they find one good person in Vada Chennai? - to present about. A horrible, violent portrayal of native people, can help better market, and will never do justice to that native people, as film crew claim to have done the authentic portrayal of the life of north Chennai. When people and law support for LGBT and marginalized people, Tamil Cinema should free itself from traditional clutches to yield an inclusive space for all.
- M. Joseph
---
You can send your articles to This email address is being protected from spambots. You need JavaScript enabled to view it.
---