After so many days whats the reason to protest in Kudankulam?
Instead of giving a direct answer,let me give the answer given by Poet Malathi Mythri, who took up fast in Kudankulam. According to her, "lets says you have chosen a Groom to your daughter and have arranged for marriage.The marriage date is fixed,Payment made for the marriage hall, invitation has been sent to all relatives.If the wedding is on the next day and you come to know the previous night that the groom is having AIDS, what would you do? Just because you have spent thousands of rupees would you proceed with the marriage?or stop it?"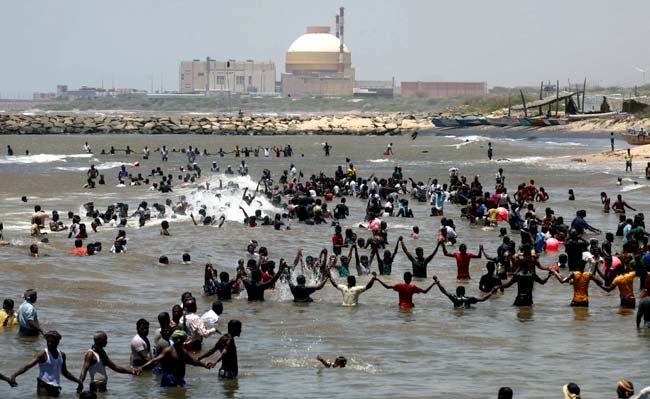 Your example is fine.But after investing thirteen thousand crores in this project, how can a protest now be acceptable?
This protest didn't happen now.It has an history of 25 years.
Is that meaningful? You can say that you have been protesting for a month or even a year, but how can we believe that you have been protesting for twenty five years?
Whether you believe it or not, this has an history of 25 years.
Can you provide atleast one proof for this 'twenty five" years?
Just one?A hundred proofs can be provided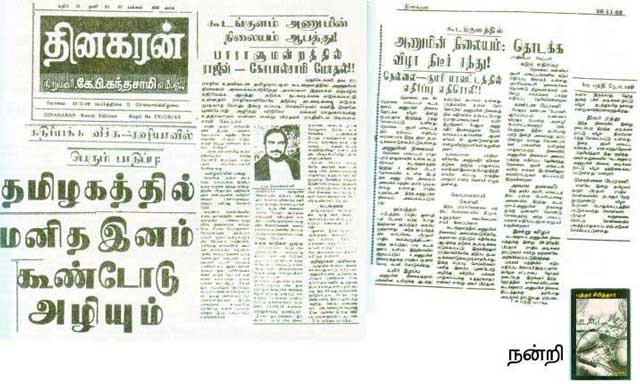 (a)In 1986, a brief description on Nuclear reactor was published in the daily newspaper "Dhinamani". That was the period when protest against nuclear reactor began.
(b)With the documentation, on Nuclear reactor waste,published by Iravatham Mahadevan in Dhinamani, the then chief Minister M.Ko.Ramachandran did not approve to the Nuclear Reactor project.
c) In 1987, a meeting was conducted by the leaders of seashore villages.
(d)In 1987, a meeting of huge public gathering was organized in Idinthakarai, against the Kudankulam nuclear project.
(e)A procession was organized in Thirunalveli on 1988
(f)Vaiko spoke against the nuclear reactor in the parliament on 21st November 1988.
(g)For the procession that happened in Nagarkovil on 1989 and in Tuticorin on march 1989 and in all similar rallies, people gathered in huge numbers.
(h) George Fernandez,Swamy Balaprsathy and other leaders took part in the Tuticorin rally.
(i)In 1989, writer Nagarjunan wrote series of essays under the topic "Kudankulam on it way to kill" ("kollavarum Kudankulam").
(j)During that period, there was an attempt to show black flag to the then Soviet leader Migile Gorbachev
(k)On May 1st 1989, a huge procession of ten thousand people led by the leader of Nation Firshermen Union,Thomas Kocheri was organized with the motto "Save water Save life".Lot of people who took part in the procession were injured due to the firing by the police.
(l)Street dramas against nuclear reactor, were conducted by Doctor Kumaradas in Thirunalveli and its surrounding areas during the period June 3rd to 13th 1989.
(m)A meeting was organized on June 13th in Kudankulam
(n)To oppose the usage of water for Koodankulan Nuclear reactor from the Pechiparai dam, series of 101 meetings were conducted in Nagerkoil and its surrounding areas.
(o)In the 1989 parliamentary elections, dropping the Nuclear reactor project was promised by most of the parties in their election campaign.
(p)In 1990, a rally was conducted to remove the stones planted to construct a pipeline from Pechiparai Dam to the nuclear power plant.
(q)Three different functions organized to initiate the Nuclear Power plant by the then Prime Minister Rajiv Gandhi, then President Venkatraman and Ex Chief Minister Karunanidhi, were all stopped due to the strong opposition from the public.
In a Social event led by the ex Governor in Madurai, music maestro Illayaraja spoke of the effects of the nuclear reactor project.
Director Balachandar, actor Nazar and various other cine celebrities signed against the Nuclear power plant.
Various books on Kunadankulam were published in tamil: Doctor Ramesh, Prema Nanthakumar, Nyani, A.S.Panneerselvan, Neelakandan, Kumaraswamy, Doctor Theivanayakam,Writer Se.Dhivan, Suba.Udhayakumar and various others are still actively opposing against the Kudankulam Nuclear project. In the "Brandline" magazine, environmentalist Prabul Pitvai has written hundreds of documentaries for the past twenty five years opposing the nuclear power plant and explaining its effects. Is this enough related to the opposition on Kudankulam nuclear plant? Or you need more?
What is your problem?You never need to the Kudankulam nuclear plant to be implemented, that's it
Yes. we are rigid on this.
Why are you so stubborn on not wanting the power plant?
The Kudankulam power plant has been developed on a lava deposit. In 1990, Doctor Piji who belonged to the Geography department of Kerala University and Ram Sharma from IIT Chennai, researched on the lava deposited in this area.Their research was published in the "Current Science" magazine on November 2004. The chances of the "extrusion of melted rocks" affecting the stability of the nuclear reactor is more.
Ok! Will there be a problem for you if the nuclear power plants are constructed in some other areas?
No. We oppose the construction of nuclear power plants anywhere
You oppose constructing anywhere else? Nuclear project is a technology. If we oppose it won't we go backwards?
You are cent percent right. Opposing this technology will push us backwards. At the same time if this technology is going to affect the entire human race then don't we need to think whether this is required? This technology can be used only after understanding its affects and taking necessary precautions to save the people from the same.
That's the reason why the government has chosen a area where people movement is less. What can be said if you are opposing that too?
Not a people movement less area but it should have been a area where there is no people around.
This was not said by us , but by the government itself in its ordinance number 828 (29.4.1991 – ministry of public works)
Other than this the standards that has been followed throughout the world has been taken up properly in the Kudankulam project.
(a) As per the AERB(Atomic Energy Regulatory Board), there should not be more than twenty thousand people with 5km perimeter. But within 10 km distance from the nuclear plant there are nearly twenty thousand people living in Kudankulam, twelve thousand living in Idinthkarai village and four hundred and eighty families are staying in Kaza Street.
(b) In a state, two third of the population should be occupying an area within 10km perimeter.But in this area the population is more than average.
c) There should not be more than 2 lakh people around perimeter of 30km.But in the Nagerkoil city which is in 23 kms, there are over 2 lakh people residing.
(d)As per AERB, within a perimeter of 20 km, there should not be any travel spots or historical sites. But within a perimeter of 15 km, the world famous Kanniyakumari is located.
Within a perimeter of 30 km from the Kudankulam Nulcear Power Plant where more than ten lakh people are residing, it is practically impossible to send them from that place, or to relocate them to a safer area, arrange for their basic needs, provide medical facilities,construct schools, or providing a new job for them.
Other than this,
Environment effect report due to the hearth was not shared with the people. Also there was no meeting conducted to know the public opinion.
The concern raised by Russian Scientist about the Power plant has been completed sealed off. "Site Evaluation Study" was not provided to the public. Also the "Safety Analysis Report" was not given to either the public or their representatives or to the media.
As per your verdict the countries developed in technology should not be having nuclear power plant right? But we have studied that countries like America, Russia, France, Japan, Germany are all having nuclear power plants.
Where did you study about this?
How could you ask like this? We have studied in school books about the Chernobyl nuclear disaster in Russia. Few days back the newspapers have quoted about the Nuclear Power Plant that was affected in Japan due to earthquake.
We doesn't want the same thing to happen over here, hence we are against the nuclear projects
Then shouldn't all the countries shut down their nuclear plants after the Chernobyl disaster?
Absolutely. After the Chernobyl accident, Russia has stopped with the Nuclear power plants .The then Soviet leader Migyl Corpasev announced that "What happened in Chernobyl cannot be considered as a disaster to one particular country. Instead, it is a disaster which has stuck the entire world".
Do not repeatedly talk about Russia alone. What about countries like America which is dealing with nuclear projects? Tell about that.
Since 1979 there has been no new nuclear plants that was build in US.
Of the 54 nuclear plants 37 has been shut down in Japan after the Fugusima nuclear disaster.
Switzerland has stopped the construction or renewal of the nuclear plants.
Italy has also decided to shut down their nuclear power plants.
Germany was thinking about dismissing its 17 power plants. Now it has decided to do the same.
In China, no new nuclear plants has been sanctioned.
France took up a public vote, of which 62 % has voted to close the Nuclear power plants.15% of the people have voted to immediately shut the Nuclear plants.
Where accidents are not there? While travelling through a vehicle also people are getting hurt,sometimes people die.If are just talking about accidents, then when will be improve?
In a bus accident hundreds may die, but after that there are no further affects. But this is not same with nuclear disaster. When the Chernobyl blasted,nine thousand people were killed. But in the following twenty five years around ten lakh people have died. People die in thousands directly, but through generations the toll raises to lakhs.Just tell me now, whether nuclear plants are required?
Accidents happened only during Tsunami or earthquakes, right?
It's not like that. Accidents in America's three mile and Chernobyl are not due to Tsunami or earthquake; it was basically due to human errors and system faults.
Already we are facing power cut for two hours per day.With this Nuclear project it is said to get power on low cost.If you people stop it on agitation then how is possible to obtain electricity?
It is just a fable that electricity can be received on low cost with this project.
Government by itself is telling that electricity can be obtained on low cost through this nuclear plant. If you are telling that this is just a fable then can you give us some statistics for that?
In the coming 20 years, to get a 6 percent of nuclear electricity then a investment of fifty thousand crore rupees is required. But for electricity through wind and solar energy, government needs to spent just six hundred crores. With this we are currently getting five percent of the energy. For nuclear electricity the government is spending Rs.3897 crores. But with that we are getting only 2.5 percent of required power. To get 1Mega Watts of electricity from nuclear plant the average expenditure is twenty two crores. To get the same power, we could invest on solar energy for just fifteen crores.
If whatever you are telling is true then people in that area should be facing medical problems?
Good question!
Families of the Kalpakkam Nulcear power plant employees affected with bone marrow cancer called "multiple Mylocoma' is more
Statistics show that women of fishing region are affected with a disease that affects thyroid gland,"Auto immune thyroid"
In the area within 5 km perimeter from the nuclear power plant(areas like Sathuranga pattinam), death toll due to thyroid cancer is more as per statistical report.The reason for this is due to air pollution caused by Iodine 131 released from nuclear power plants.
All these statistical reports are from the research done by doctor V.Pugazhlenthi during the years 2003,2008 and 2010.
Are you trying the spoil the employment opportunity have will be obtained due to agreement signed with other countries?
If you consider employment for four people, then four hundred will lose their jobs. Is such kind of an agreement needed?
What do mean by four hundred will lose their jobs?
When nuclear power plant was started in Tharapur(Mumbai), there were nearly seven hundred fishing boats.Now there are only twenty boats remaining. Since the fishing market went down, most of the people have opted to daily wage jobs and left. Due to mix of "Iodine" in water, from the Kalpakkam nuclear plant, the number of fishes have reduced. Fishes of "Lion Prawn" variety are diminishing in huge rate. The same scenario will happen in Kudankulam too. South tamil nadu, the centre for the fishing market, trade is happening based on the lakhs of fishes and ocean species. This is will be vanished soon. Thousands on farmers will come to the streets, if water from Pechiparai dam, the farmers water resource, is used for Kudankulam nuclear power plant. For few to live is it right to spoil the lives of thousands of people?
What kind of health issue will arise due to radiation from the nuclear plant?
Radiation will affect the reproductive organs more than any other parts of our body. Radiation will affect the sperms and eggs,thereby changing their state. This may lead to abortion, premature delivery and children born with deficiencies. Thyroid cancer, skin cancer, blood related cancer are the various cancers that might occur due to radiation affects.
Protest against Nulcear plant is happening only in Tamil Nadu.But the other states are silent on this issue?
· People of Maharashtra have decided to send ministers, who are of the opinion that nuclear power plants are safe, to Fugusima.
· Re.1 per head was collected and send as transport charges to the ministers to visit Fugusima
· Irrespective of party, people have protested in Gujurat opposing the nuclear power plant construction by an American company.During the protest, till now three have died on police firing
· In Pathaepath of Haryana, people are undergoing series of rallies and fast.
Ex President Abdul Kalam also is in favor of Kudankulam Nuclear Power Plant.
What are the reasons he is specifying to favor this project?
If you have daily newspaper you should have know about it. Thats Ok! I will explain about it
Electricity from nuclear energy is of low cost
Nuclear power plant is cent percent safe
Steps have been taken to safeguard the nuclear waste for eight years
No one died on Japan's Fugusima disaster
In the whistle-blown Chernobyl accident,there have been only 56 deaths.
Germany has closed its nuclear power plants due to unavailability of uranium.It is not an action following the Fugusima accident.
Kalam has explained everything clear.Still are you not able to understand?
You have read thoroughly the opinion given by our honorable Ex President Abdul Kalam.Let us check what you have said one by one
Kalam: Nuclear electricity is of low cost
Abdul Kalam's calculation is based on, "cost for getting one gram of Uranium to the amount of electricity obtained from it".But for nuclear electricity, below points to be considered:
Cost for the safety precautions in a nuclear power plant. (This is greater than the other methods )
Any nuclear power plant should be dismantled after 30 years. Our Government says that it has spent around thirteen thousand crores on Kudankulam power plant. On todays calculation, to dismantle the plant it has to spend twenty thousand crores.(Then in thirty years the expenditure will vary from fifty to sixty thousand crores).So the total expenditure for Kudankulam (to construct and destruct) is eighty thousand crores.
If nuclear energy is of low cost then why are they saying, "Wall Street does not vote for nuclear industries"
Our government has place the Nuclear energy department under the "Official Secret Act". According the public must not have been provided the correct data on expenditure. In that case on what basis are you telling that nuclear energy is of low cost?
Kalam: Kudankulam nuclear power plant is cent percent safe.
Lets say we are completely believing this point. The Indian and Russian Government has signed an agreement. As per this agreement, If there is an accident in Kudankulam Nuclear power plant, then no suits can be filed against the company, Atomstroyeksport, which constructed the plant. If this power plant is cent percent safe then we need to go for such an agreement?
If nuclear power plants are safe, then why most of the private insurance companies are not stepping forward to provide insurance?
Why is the Wall Street getting a high interest rate from Nuclear power plant compared to the others?
Kalam: Steps have been taken to safeguard the nuclear waste for eight years
Lets say that these nuclear waste are safe.Then why is it Russia (as agreed before) is now not agreeing to take the nuclear waste?
Do not consider nuclear waste equal to our kitchen garbage. One gram of uranium out of ten lakhs has the strength to create cancer.This waste will radiate for two lakh years
Two lakh years, Or like everybody is saying as twenty five thousand years. How can we say that precautions have been taken to safeguard nuclear waste for eight years when it needs to be guarded for twenty five thousand years?
America spent lot of thousand crores to dump nuclear waste in depths Yuka mountains where there is no chance of earthquakes or water current. Do you know why that has been dropped down by the US government?
Kalam: No one died in the Japan's Fugusima disaster
If no one has died, then why is the report shows the death toll to be 7?
"Radiation twenty times bigger than Chernobyl was produced", was told by the assistant director of American nuclear industries, Arnod Kantersan (http://www.aljazeera.com/indepth/features/2011/06/201161664828302638.html)
If no one has died than why did Japan decided not to construct Nuclear power plants?
If no one has died in this small accident, then why did Japan immediately evacuate seventy thousand people from that area?
Why did Japan banned the export of crops grown in Fugusima? (http://www.dnaindia.com/world/report_japan-bans-shipment-of-rice-harvested-in-fukushima-after-high-cesium-level-detected_1619606)
Kalam: In the whistle-blown Chernobyl accident,there have been only 56 deaths
You must have known about the America's bomb thrown in Hiroshima and Nagasaki.How many died in that attack? After this attack you must known if you are reading the newspapers daily, as how many children are born with handicaps, mentally retarded and with lot more deficiancies. Then just imagine how much effect would happened if the Chernobyl disaster had radiated more than hundred times than Hiroshima/Nagasaki.
If just 56 have died then it is just like a bus accident! Then why is this case study taught to engineering students by the Asia's biggest university,Anna University, in their environment science subject? Even Kalam was a lecturer in that same university
As per Russian report on Chernobyl disaster, nearly 9 lakh eighty six thousand people died. To Know more of this report, you can search under the topic "Chernobyl: Consequences of the Catastrophe for People and the Environment"
Due to Chernobyl disaster, nearly 1 lakh sq.ft of land has become unfit for cultivation due to pollution
Kalam: Germany has closed its nuclear power plants due to unavailability of uranium.It is not an action following the Fugusima accident.
German Chancellor Angelo Marckel, has told when our Prime Minister Manmohan Singh was nearby that, "We have closed our nuclear power plants due to the protest against them after the Japan's disaster". Doesn't Kalam know about it?
Lets say that it is due to Uranium unavailability that Germany is shutting down its power plants. Then is it available in our country?No!We have signed an Agreement with America to import Uranium.
Australia which came forward to export Uranium to us doesn't have nuclear power plants in their country.
Then do you think that Kalam has been bribed to talk so?
Ex President Abdul Kalam is a leader whom the entire nation celebrates. Lot of youngsters are looking forward to him. To tell more he is a person who belongs to our region; learnt through tamil; belonging to a small fisherman's family but has reached to such a high post; a person known for his simplicity. We are blindly telling that such a respectable person has acted on bribe; it is also not proper to tell such thing against him without any proof. Let it be Abdul Kalam or Mother Therasa or (Aringhar)Anna, if it is right then we will also tell that as right but if it is wrong we will point out the wrong. Tamil has taught us to speak out about the wrong if it is wrong even if the eye in the forehead is opened. Our honorable Ex President Abdul kalam has the habit of telling Thirukural wherever he goes. The same Thirukural has taught us to rely on the information based on a complete analysis rather than relying on what others speak. No matter who tells an opinion let it be Kalam or anybody else, isn't it right to seek out for the real truth?
Lets say whatever you tell is right. Did anyone of the scientist support your protest?
The famous nuclear engineer of Bhaba Atomic Research Centre,Doctor Parameshwaran; Doctor Yamuna who worked in Japan's (Fugusima) Nuclear Planning; Lecturer V.Sivasubramanian; Researcher in Annamalai University, Doctor T.T.Ajithkumar; and lot more in the list. (http://www.dnaindia.com/india/report_top-indian-scientists-to-launch-nation-wide-protest-for-ban-on-nuclear-plants_1600845-all)
On listening to your talks even I feel like participating in the protest.But rumors are that America is supporting the protestors through money(Since Russia is involved in Kudankulam project).How is this acceptable?
People, irrespective of caste, religion and party, are protesting against the Government in Kudankulam. It is sad and also shameful that the government by itself blowing the horn for false statements.
What makes you tell that the Government is telling lies?
The protest is also against the American funded nuclear plant in Tharapur and France funded nuclear plant in Seithapur. Will America provided money to protest against its own investment?
I have already told you about the history of this protest. Today we have reached the height of opposition which has been happening for the past twenty five years. If you say America is funding then it must be providing money for the past twenty five years to Doctor Parameshwaran of BARC, Music Maestro Illayaraja, Actor Nazar,George Fernandez(who banned Coco Cola an American product). Our Government is trying to fool us away.
I too agree to you views of opposing the Kudankulam nuclear plant. But what is the solution for electric power cuts?
Nuclear electricity is not a solution for power cuts. In 1962, they told that they will generate 20000Mwatts of electricity from Nuclear power plants. But in 1987 itself we didn't even get 1000 MW of power. Then in 2000, they informed that 10 percent of required power will be generated. But they were not able to reach even 3 percent. It is just a dream that power cut will be eradicated by Kudankulam nuclear power plant. It won't fit reality.
Ok! Whats the alternative? Do you have any plans for it?
In Tamil Nadu, if CFL lights are used instead of bulbs then we will be able to save 1800 MW of power in a second.
In Tamil Nadu we are getting 3200 MW of power from the wind turbines constructed from Kayathaatru to Kannyakumari. Similarly across India, if wind turbines are constructed across seashores where wind is more. From Gujarat to southwest there is a distance of 7500 KM.If wind turbines are constructed here, then thousands of MW power could be generated.
Currently the wind turbines rotate on 11 to 14 km force of wind. Currently research is in progress to rotate them on a 4 to 5 Km of wind force.
For a day 35 MW of power could be generated if Solar plates are place on one S.Km
In the Thar desert, on the surface area of 5000 Km,we could then get 175000 MW of power(5000 *35 = 175000)
In Tuticorin, the waste from the Fish preservation industry is used to get coal from which electricity is generated. This was plan which started with just twenty thousand rupees of investment, now this has saved upto one lakh rupees per month.
Similarly in Cities,Municipality, town panchayat and in areas where waste water is collected,there electricity could be generated through "Waste Water Management". Thus electricity could be generated in every municipality. Through this way power cuts will be eliminated from all the cities.
- Muthukutty in Tamil, Translated by Devi Venkatalakshmi (This email address is being protected from spambots. You need JavaScript enabled to view it.)

---
You can send your articles to This email address is being protected from spambots. You need JavaScript enabled to view it.
---