A Turning Point In The Mass Struggle Of The Tamil Eelam People For Remedial Justice
"Walk for Justice for Tamils" took place from Pothuvil to Polikandy (P2P) in Sri Lanka from February 3rd to February 7th 2021. Tens of thousands of Tamils participated despite intimidation and threats by the Sri Lankan Security Forces. One of the protestors' main demands is a referral of Sri Lanka to the International Criminal Court (ICC).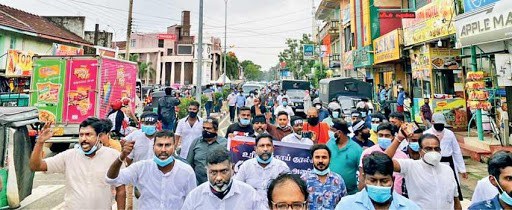 The walk was spearheaded by Tamil and the Muslim civil society in Sri Lanka.
UN High Commissioner for Human Rights Michelle Bachelet, in her report A/HRC/46/20 dated 27th January, 2021urged UN Human Rights Council Member States to take steps towards the referral of the situation in Sri Lanka to the ICC.
The Tamil domestic political parties in Sri Lanka, religious organizations and civil society, notably the Association for Relatives of the Enforced Disappearances, also called for the referral of Sri Lanka to the ICC in their joint letter to member states on January 15.
In 2015, more than 1.5 million people around the world (70,000 in Sri Lanka) signed a petition to 'Refer Sri Lanka to the ICC'. In 2019, the International Commission of Jurists said that the referral of Sri Lanka to the ICC was "fully warranted".
In her report, the High Commissioner stated that the Office of the High Commissioner for Human Rights Investigation on Sri Lanka (OISL) documented "the total failure of domestic mechanisms", including past presidential commissions of inquiry, to ensure accountability and examined the "deeply-entrenched barriers to justice in the domestic criminal justice system, particularly for international crimes".
The High Commissioner referring to her previous Report in February 2020, stated that she is "not convinced that appointment of yet another commission of inquiry will advance accountability".
The historical significance of the P2P rally lies in the fact of the Homeland people coming out in a united mass struggle for justice as embodied in their demands for all sections of the Tamil people braving all odds. The disappointment about the attitude of the Core Group on Sri Lanka in the UNHRC as reflected in the zero draft of a resolution being circulated should not be allowed to belittle the significance of the P2P rally.
The joint letter of the homeland organizations dated January 15 to the UNHRC member states and the Report of the High Commissioner for Human Rights have to be viewed along with the P2P Rally to understand its historical significance. It is now the masses in the place of such groups as some rights-conscious organizations, or some persevering mothers are fighting for justice to their forcibly disappeared dear ones. Yes, it is the masses who made the P2P a turning point.
We have no doubt it is going to be a long journey for destination justice, and this mass struggle has to be sustained and carried forward to its logical end.
- Thiagu
(This article was published in Fortnightly Magazine 'Abel', February 26, 2021)
---
You can send your articles to This email address is being protected from spambots. You need JavaScript enabled to view it.
---