Economists remarked that the 0.4 per cent increase in the third quarter GDP does not indicate a real economic recovery and is a statistical illusion. It appears to have increased due to a lower base, i.e., the third quarter of the financial year 2019-20 has already faltered with a very week output.
Tax revenues of 15 states fell by 14 percent in the April-January period. The share of cess and surcharges in the central govt. 's tax revenue has more than doubled from 10.4 percent in 2011-12 to 19.9 per cent in 2020-21. Chief Economist Sunil Kumar Sinha has stated that the centre's allocation to the states has declined from 53.4 per cent in 2011-12 to 48.6 per cent in 2019-20.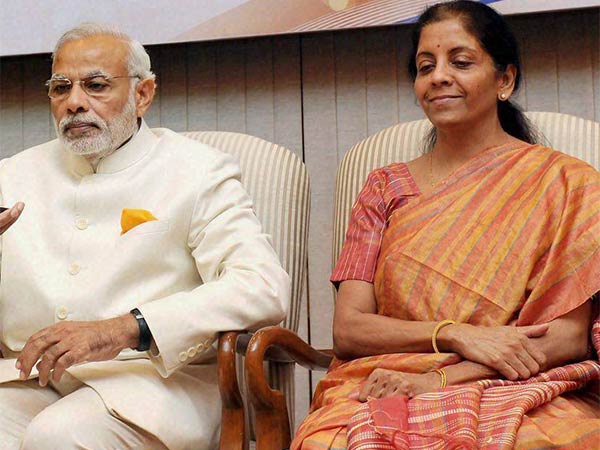 The central government has earned Rs. 1.87 lakh crore from Rs. 13-16 surcharge per liter on automotive fuels in March / May 2020. The central tax revenue on petrol and diesel has increased by more than 300 per cent in six years.
The central government accrues a substantial amount of revenue from taxes. Even if the central government borrows, the loan and its interest will be repaid mostly by the tax revenue collected from the people, but our finance minister is giving a completely absurd statement that she is not expecting the stimulus to be funded by taxpayers, not a rupee from the taxpayer and the entire fiscal stimulus was to be funded by borrowing revenues.
According to the National Accounts Statistics (NAS) 2021, private final consumption expenditure (PFCE) for health, education and restaurants was increased by almost nine per cent in 2019-20. Expenditure on health by Indian households is increased by 9.5 per cent to Rs 3.8 trillion, while spending on education is increased by 9.2 per cent. Expenditure on restaurants is increased by 8.7 percent. All these have to be viewed as indicators of privatization and price rise promoted by the BJP government. Despite the improvement in consumer sentiment after the general lockdown, there was no improvement in household income, says CMIE.
Railway Minister Piyush Goyal has illogically asserted that the railway sector will never be privatized, but at the same time, private investment will be encouraged. Encouraging private investment is itself an act of privatization. How can private investment be encouraged without increasing privatization? Our Finance Minister claims that the BJP government's practice of monetizing public property should not only be seen as a fund-raising mechanism but also as an overall strategy to bring about a paradigm shift in infrastructure development and administration. This only exposes the BJP government's meanest economic policy and practice.
The number of middle-class people in India has dropped by a third from 99 million to 66 million due to the economic crisis caused by the Covid-19 pandemic. According to the periodic labour force survey (PLFS) released by the Ministry of Statistics, 25 million workers lost their jobs in urban areas between January-March 2020 and April-June 2020. The unemployment rate of the overall population soared to 20.9 percent in April-June 2020 from 9.1 percent in January-March 2020. Unemployment among 15-29 aged youth has risen from 21 percent to 35 percent, which means every third worker in the 15-29 year age group was out of work. The urban male unemployment rate is 20.8 percent, and the female unemployment rate is 21.2 percent. The BJP government has not taken a single effort to increase employment. Even the MNREGA scheme has not been extended to urban areas all across the country to increase its number of beneficiaries. When inflation rises by more than 5.03 per cent, MNREGA wages are increased only by 4 per cent, which is actually nothing but a real wage decline.
Although small and medium enterprises (MSMEs) have been hit hard by rising raw material and fuel prices, the central bank has not extended the loan moratorium relief. The Supreme Court also refused to lend support for an extension of moratorium relief.
The number of micro-enterprises started under the PMEGP-Entrepreneurship Support Scheme has fallen by 9.2 per cent to 66,653 from the previous fiscal year. The number of jobs created by the Khadi Village Industries Commission (KVIC) has also declined from 5.87 lakh to 5.33 lakh.
Twenty-five percent of public procurement of CPSES from MSMES is said to enable economic self-reliance and promote domestic MSMEs. But who has really benefitted from the public procurement scheme remains a big question. The big corporations have set up their own fully owned micro, small and medium enterprises (MSMEs) as subsidiaries to misappropriate public procurement tenders in an unjust manner. The real MSMEs are at risk of being severely affected by their inability to compete with large corporations. In the name of supporting micro, small and medium enterprises, the Modi government is indirectly promoting big corporations and fabricating the story that they are not aware of it.
RBI recently reported that the NPAs would increase to 13.5 per cent in 2021. According to a survey conducted by the IBA on 20 banks, including public, private and foreign banks, the NPAs of banks are expected to increase by more than 10 per cent by 2021. But without mentioning the current state of NPAs, Anurag Thakur, Minister of State for Finance and Corporate Affairs, claims the fall in NPAs from Rs 96.896 lakh crore in 2018 to Rs 70.5.70 lakh crore in December 2020, as an achievement of the BJP government!.
Chief Economic Adviser Krishnamurthy Subramanian has advised bankers to boost infrastructure development and shun lending to crony capitalists. The banking sector since the early 1990s has faced the problem of poor-quality lending, especially on large loans. Crony lending leads to a bad loan crisis, he added. He blamed "indiscriminate lending" during the UPA era for the non-performing asset crisis in recent years. In fact, compared to the Congress regime, it is the BJP regime which has given more concessions to the big corporates. The big corporates have benefited the most from the BJP government's liberal policies and fiscal stimulus. Notably, it is Adani who has overtaken Amazon's Jeff Bezos to become the richest person in the world this year. His net worth has increased from Rs 1.17 lakh crore to Rs 3.6 lakh crore in 2021.
Despite the sharp decline in the world economy due to the severe impact of the corona epidemic, The stock market frenzy reached its peak. Banks in developed countries have reduced their lending rates to zero to provide stimulus to the faltering economy. It is neither the poor people nor the MSMEs who got benefitted from this loose monetary policy. It is only the big corporates who have benefited. The cheap credits were not used to increase investment in the productive manufacturing sector in a way that would lead to economic recovery but rather increased speculative investments. Corporations buy back their own shares to increase the market value and profitability of their companies which is in no way helped the recovery of the economy.
According to Angel Broking firm, 72 percent of those who opened a demat account with Angel Brokerage in India between October and December last year were young people who had never traded in stock before, and young people began to show more interest in engaging in stock trading. The Indian stock market is the second-largest market for investors in the international stock market. Yet, in a country of 136 crore people, less than 4 percent of the population invests in the stock market.
Farmers across India have been continuously struggling and organizing a series of protests against agricultural laws that are destroying their livelihoods. But Ramesh Chand, a member of the NITI Aayog, fallaciously claims that the goal of doubling farmers' incomes by 2022 would not be achieved if the new agricultural laws were not implemented and that blanketing genetically modified crops was not the right approach.
Reviewing India's trade policy at the World Trade Organization, the US argued that the government's plan to buy food from farmers at minimum support prices would distort domestic market prices and encourage higher production of products such as rice and wheat. Australia opined that India's trade-distorting agricultural policies had created volatility in the global market. "India's domestic support for sugarcane production and export subsidies for sugar are of particular concern to Australia, which is why Australia, along with Brazil and Guatemala, has been initiating a trade dispute to challenge those measures. This accusation on the Indian government that it is making too many concessions to the farmers at the World Trade organization, even after the BJP government pushed the Indian farmers to the brink of extinction, exposes the mean, horrendous state of neoliberalism.
Inflation:
Consumer price inflation rose to 5.03 percent in February. Food inflation rose to 3.87 percent.
Prices of vegetables fell by 6.27 percent. Pulses became dearer by 12.54 percent. Egg prices rose by 2.59 percent. Oil and fat prices rose by 20.78 percent. Prices of fish and meat rose by 11.34 percent. In Tamil Nadu, inflation has risen to 7.21 percent.
Industrial growth in January:
The Index of Industrial Production declined by 1.6 percent, according to the report released by the Ministry of Statistics. In the primary sectors, mining output fell by 3.7 percent. Production in the manufacturing sector fell by 2.0 percent. Electricity generation increased by 5.5 percent.
In the user-based classification, production of primary goods declined by 0.2 per cent. Production of capital goods showed a decline by 9.6 per cent, Production of non-durable consumer goods fell by 6.8 per cent and durable goods production declined by 0.2 per cent. Production of construction goods increased by 0.3 per cent and production of intermediate materials increased by 0.5 percent.
Industrial growth in February:
The combined manufacturing index of eight key industries released by the Department of Industry and Internal Trade Development fell by 4.6 percent in February. Coal production showed a decline of 2.2 percent, crude oil production fell by 3.2 percent, and natural gas production decreased by 1.0 percent in February. The output of petroleum refining products fell by 10.9 percent. Fertilizer production also declined by 3.7 percent. Steel production also decreased by 1.8 percent. Cement production showed a decline of 5.5 percent. Electricity generation also fell by 0.2 percent.
The Covid-19 epidemic has exacerbated the gender inequality crisis. By 2021, 96 million people will be living in extreme poverty, 47 million of whom are women, says the report released by the Bank of America's economists. It also found that women's jobs were at 19 percent higher risk and that women contributed more to childcare and unpaid labor during epidemics. If gender equality were to prevail in all countries of the world, the world's GDP would increase to $28 trillion by 2025, and the world has lost $ 70 trillion through gender inequality since 1990. It would take at least 257 years to close the gender gap altogether. The loss of human capital due to gender inequality is estimated to be over US $ 160.2 trillion.
To sum up, the Modi regime has turned economic growth upside down and still dare call it development.
- Samantha K.S.
---
You can send your articles to This email address is being protected from spambots. You need JavaScript enabled to view it.
---