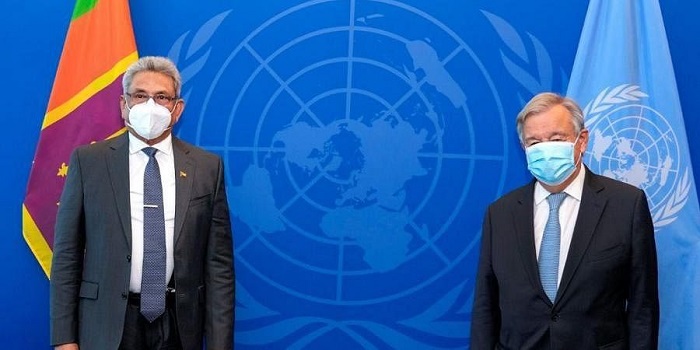 President of Sri Lanka, Gotabaya Rajapaksa's proclaimed readiness to talk to the Tamil Diaspora has been described by the TGTE as similar to a call from Hitler to talk to the Jewish Diaspora if hypothetically Hitler had managed to remain in power following the Holocaust, which meant his genocide of Jews.
What was the now-president-of-Sri-Lanka doing when the civil war 2008-09 was going on? He was presiding over the military campaign to eliminate Tamils en masse in the name of fighting terrorism; commanding the armed forces to kill over 70 thousand Tamils as conservatively estimated by the UN Internal Audit report; overseeing the deliberate and intense shelling and the bombing of areas designated by the Government as "No Fire Zones", where the Tamil civilians had assembled for safety; strangulating the Tamil people by restricting food and medicine, resulting in large numbers of people dying from starvation and many of the injured dying of their wounds.
What Gotabaya and his gang of killers did amount to war crimes and crimes against humanity, as per international law. That these crimes constitute genocide can be easily proved beyond doubt by an independent international process of criminal investigation.
International Truth and Justice Project (ITJP) in February 2017 handed over details to UN of Sri Lankan Military run "Rape Camps", where Tamil Women are being held as "Sex Slaves."
According to May 2012 report by the British Foreign and Commonwealth Office on Human Rights and Democracy; there are up to Ninety thousand (90,000) Tamil War Widows in the North- East of Sri Lanka.
Thousands of Tamils Disappeared, including Babies and Children. UN Working Group on Enforced Disappearances stated in 2020 that the Second Highest Number of Enforced Disappearance cases in the World is From Sri Lanka.
According to independent organizations, Tamil Areas have the Highest Concentration of Security Forces in the World (Ratio: One soldier for every five Civilians).
Gotabaya in whatever capacity, past and present, has played a leading role in all the episodes cited above. Without even a semblance of remorse for all the blatant abuses committed under his command he is now speaking of talks.
On the sidelines of the ongoing UN General Assembly sessions, the UN Secretary-General met Sri Lanka's President who is reported to have told the Secretary-General that, "the internal issues of Sri Lanka should be resolved through an internal mechanism of the country and said the Tamil Diaspora would be invited for discussions in this regard."
It is unthinkable for a victim community to have a discussion of any kind on any topic with a known genocidal state presided over by a known genocide-criminal.
Beware, there appears to be a concerted and multi-pronged drive from various quarters in and out of Sri Lanka to thrust some sort of reconciliation down the throats of Tamils without accountability and justice while going ahead with structural genocide. Gota's offer of talks is obviously a part of this scheme.
Accountability is a prerequisite to any kind of political resolution. The Tamil Diaspora with whom Gota wants to talk has given him a fitting reply: The TGTE has thrown an open challenge at him: If you are genuinely interested in bringing peace to the island, the first step is -- as UN High Commissioner for Human Rights Al Hussain recommended in 2015 -- that Sri Lanka should ratify the Rome Statue retroactively and give the International Criminal Court jurisdiction to investigate and prosecute the perpetrators of the international crimes, namely genocide, crimes against humanity, and war crimes committed during the final stages of the armed conflict between the Sri Lankan state and the Liberation Tigers of Tamil Eelam (LTTE) which ended in 2009.
Will Gota release all Tamil prisoners of war and political prisoners held in Sri Lanka? Will he stop this "General Amnesty" rubbish? Who must forgive whom?
Will Gota put a freeze on colonization under the guise of archaeological research, development schemes, and forest preservation, as well as demilitarize the North-Eastern part of the island, the area of historical Tamil habitation? Will he revamp the Office of Missing Persons to make it a neutral and credible institution, allowing the UN High Commissioner for Human Rights to nominate international experts as members and construct a mechanism for the victims to be involved throughout the process?
Will Gotabaya Rajapaksa set a firm timetable for a referendum similar to the referendum for the Tamils to decide their political destiny, a referendum with various options including an independent and sovereign state of Tamil Eelam?
No illusions, please. Gotabaya will do none of these. Never. Beware of all attempts to sow such illusions wholly or partly. Be on guard.
- Thiagu
(This article was published in Fortnightly Magazine 'Abel', September 30, 2021)
---
You can send your articles to This email address is being protected from spambots. You need JavaScript enabled to view it.
---