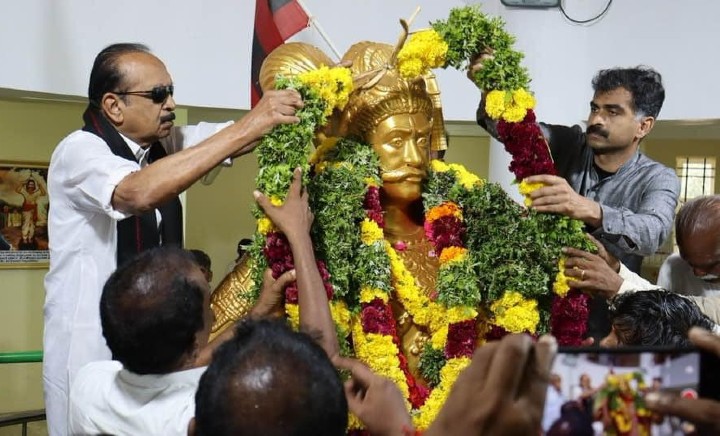 Democracy is repeatedly proven to be the cover of the bourgeoisie. The term democracy, though it represents the rule of the people, never represents the rule of all people. Democracy is a screen covering those differences in a society of caste, religious, ethnic, and class differences. So words like equality, democracy can never get their real meaning. Today, all the countries that teach about democracy defend capitalism. That is why all political parties that represent the capitalistic social system are immersed in the framework of capitalism's fundamental property, and they stand naked as removing their democratic masks. Just as all pre-democratic social systems were built on property, the highest form of democracy is built on property rights. How can the name be democratic if it is said that the ability to rule and lead the country is limited to certain families by birth as heredity? However, unfortunately, democracy is like that all over the world today. This is why the majority of the population is aloof, thinking that only big capitalists, real estate mafias, liquor dealers and educational philanthropists can participate in politics.
If one asks, "why should not the politician's son enter politics?", I would say, "definitely, they may enter." The fact is that no one can go away from politics. But what is the name for it, giving the party's most important responsibilities, office, and a position of dominance over the party just because of born as a politician's son? It is deliberately imposed. Succession politics is imposed from the 'goodwill' (?) that no one but his family should take over party institutions worth hundreds of millions. But we have to see that when the party is involved in succession politics, the party's cadres often do not oppose it.
That is because they see political party leaders as a god or a capitalist who pay them. They do not understand that they are small creatures who, like themselves, defecate faeces and urine. That is why when they see the political leaders, they do show obsequiousness and fall on their feet.
It is because all politicians of the corporate parties think that people are beggars who get money from them, that they can easily bring their successors to the highest position in party responsibilities. Until yesterday, he may have been a hooligan, a bully, and even an illegal dealer. But if he is the leader of a political party today, you must worship him and accept him. Otherwise, you will be considered as an enemy who does not deserve to be in the party. Therefore, succession politics must be accepted.
If so, we must also accept Durai Vaiko, who is a partner in the Indian Tobacco Company and a director of a private company called 'We reality', till today. In Egmore, Chennai, Vaiko's son, Durai Vaiyapuri, was elected as the Chief Secretary at a meeting of district secretaries and high-level committee members held at the MDMK office on 20th August. 104 participants had voted in favour of Durai Vaiyapuri out of 106 participants, and so he was elected. We can see its intention from conducting this programme in a secret way. But after staging a farce, Vaiko explained, "the politics of succession is to impose someone. But, His son got the post in the party as per the wishes of cadres. He has all the necessary qualifications for political life. For the past two years, I have restricted him from engaging in political life. But I cannot completely restrict. He joined the party work as per the wishes of the cadres."
Vaiko's tongue would be the equivalent of a thousand poisonous snakes if Vaiko thought that his son, who had a qualification within two years unknowingly where other party members had nothing even they had worked for more than 28 years.
Vaiko's intention to bring his son into politics and to give the party its most important responsibility was that the party's assets, which had arisen in the sweat of lakhs of MDMK cadres, should be controlled by his son after him. Although the party is formed by the labour of millions of cadres, the common policy of the corporate parties is that 'it and its family should eat up the fat assets those are acquired by the party. MDMK is no exception for this. This list is too long in Tamil Nadu from M.K. Stalin to Azhagiri, Kanimozhi, Dayanidhi Maran, Udhayanithi Stalin, T.R. Balu's son T.R.B.Raja, Prof, K.Anbazhagan's grandson Vetriyazhagan, Siva Shankar S/o Siva Subramaniyam, I.Periyar Samy's son I.P. Senthil Kumar, P.S. Thiruvenkatam's son P.S.D.Saravanan, Thangam Thennarasu S/o Former Minister Thangapandian, Geetha Jeevan D/o former DMK District Secretary Periyasamy, P.T.R.Palanivel Thiyagarajan, S/o P.T.R.Palanivel Rajan, O.Panneer Selvam's son Rabindranath, Jayakumar's son Jayawardan, Former Minister Senthur Pandiyan's son Krishna Murali, Former Legislative Assembly President PH Pandiyan's Son Manoj Pandiyan, Kadhar Basha Muthu Ramalingam S/o Former Legislator Kadhar Basha Vellaisamy, DMDK leader Vijayakanth's wife Premalatha, his brother-in-law Sudhish, Anbumani in PMK, Karthi Chidambaram in Congress, Thirunavukkarasar's son Ramachandran, former congress leader EVKS Ilangovan's son Thirumagan.
If we list succession politics in the national parties like Congress, BJP etc, it will go on several pages. What we need to understand is that succession politics is not associated with a particular political party. We need to relate and understand it with the state system in which we live. The political parties that are doing a great job of conserving the capitalist social order and its exploitation are basically capitalist institutions. So the corporate parties will act the same way a corporate company does. The cadres of the party are actually wage slave for them. They may be given a few hundred or a few thousand during election time. They have no other right beyond that. Choosing a political party among these all, is just like choosing other Capitalists when one does not like a Capitalist.
Therefore, we have to see the political arrival of Durai Vaiyapuri as a newly mixed sewer in the already flowing sewage system of succession politics.
Written by S. Gorky
Translated by M. Kurinjithen
---
You can send your articles to This email address is being protected from spambots. You need JavaScript enabled to view it.
---