Well! Mr Akhilesh Yadav! Certain words make certain leaders more famous.
"Corruption is after all a global phenomenon'', pat came the reply from former Prime Minister Indira Gandhi, asked about corruption as a growing evil of India.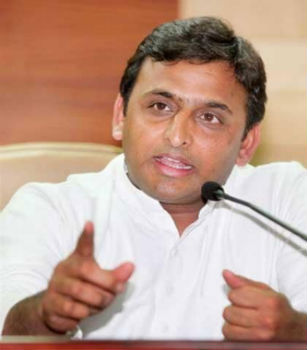 Asked about the same subject in Tamil Nadu, former Chief Minister Karunanidhi commented: Won't anyone picking up honey lick it?
In the Shakespearean tone of what is in a name, you put off 'probing' scribes who reflected the people's ire over the rape and murder of two Dalit teenage girls in Katra village in Uttar Pradesh and retorted: What is it to you?
A lot to all of us, Mr. CM of Uttarpradesh!
The shameful episode has caught the global media light which fell in plenty on the 2012 December gang-rape of a medico on a moving bus in Delhi. UK-based Mailonline has highlighted your queer query in its screaming headline: "'What is it to you?' Top Indian official MOCKS questions over rape and murder of two teenage girls……''
The United Nations has condemned the incident. It is quite shameful that India which according to some data has been witnessing rape every 22 minutes has been bracketed with Pakistan and Nigeria on the count of atrocities on girls and women.
A lot of women's organisations, as usual, are taking up cudgels against your government on this issue, protesting your words. There is, though, nothing surprising about your comment, coming as it does from the son of a father who had made a notorious comment during the election campaign: "Boys will be boys; they make mistakes''
We used to mock the highly materialistic West trampling on spirituality and flaunt our Indian superiority stemming from the peak of spiritualism infusing our culture. But now the reverse is happening. India is facing a situation that is direly in need of a movement like the Nigerian 'Bring Back Our Girls' campaign. Yes! Our girls going out into open fields to answer nature's calls often disappear only to be found raped and murdered.
Your 'what is it to you?' in fact, withholds from your sight and reason several dimensions, cultural, political, hygienic and casteist. Going one step further, we can say your question may have a final answer in the form of invocation of Article 356, which is quite possible in the swirling world of political cut-throat machinations and manipulations.
This latest incident of rape is in itself not a rape alone; it is a rape of the equality of women; it is a rape of the ideal of casteless society; it is a rape of hygiene and disease-free goal and finally, a rape of political peace.
The stinking memories put into the computer of brain are popping up, hearing about where the two Dalit girls went for answering calls of nature. In a village in Tamil Nadu, groups of girls used to go to open fields or narrow dark lanes or railway tracks at night to defecate. In a world of male chauvinism, men alone could use daytime for the purpose.
As a train was whizzing past throwing light about, the women squatting in a row on the tracks were caught unawares and stood up in a reflex, letting go down to the ankle the sari. As the train went past them, they heaved a sigh of relief and resumed the ritual, anxious to finish it off as early as possible to avoid being caught in the splurging lights from the next train.
In the UP case, the girls had no other go except using the open fields at night for they had no toilet at home.
Toilet is just a dream for them; a privilege for women of higher caste.
When it comes to sexual assault, the male chauvinistic world does not discriminate between women of urban and rural places. But the problem is more acute in villages, that too, in Dalit settlements, where untouchability still reigns supreme.
As the latest episode has happened in a Samajwadi Party-ruled State, it assumes political colours too. Mr. Modi may be tempted to sense and seize an opportunity to use the incident to his party's advantage, now that it has bagged 71 out of 60 Parliamentary elections in UP. The Prime Minister who once said openly about the need to build toilets for all in the country will rise to the occasion, go about executing the scheme and at the same time, throw his opponents off balance.
For all the multi-dimensional nature of the episode, the parents of the Dalit girls whose grief-stricken portraits were published in the Mailonline are living with broken hearts, bereavement gnawing at their hearts.
The nation is simply watching mutely like Bheeshmar, as our Draupathis get stripped of clothes, dignity, and life too!
- Maharathi, A Tamil poet with a collection of verses 'Mazhai Iravugal'(Rainy Nights) published in 2013