Corona, the harmful microorganism, has created an economic recession in developed countries and an economic downturn in developing countries. To conceal India's economic downturn happened before Corona and to rebuild, we can see that, the Government has waived off bad debts of big corporates in the name of Corona.
Due to Corona, the Government's actions to increase foreign direct investments through liberalization and privatization are against the people. Besides, the Government plans to improve online services. During this pandemic situation, the Government has offered more loans to big corporates, but at the same time, it hasn't written off agriculture and education loans taken by poor working people. The Government is not willing to relieve people from suffering.
The increased virus spreading has made people to maintain social distancing and created fear among them. On one side, the latest technological devices made people live individual island life; on the other hand, Corona alienated human society and made people as moving corpses with hunger and starving due to no economic existence. However, big corporates planned to increase their capital by expanding Online Commerce Services via technological advancements.
The working people's livelihood has been pushed back in this pandemic situation. People who have to protect them are emptying the country's money by making a huge statue, pouring flowers for Corona, and giving loans to corporates. Working people are the real victims of every disaster. Those who were migrated from the village to the city are now again looking for their hometown. Corona has made the life of the homeless and those who migrated elsewhere for survival more critical. People who migrated to different states for small businesses also returned to hometowns. Daily wagers' situation is even worst. In this situation, the learning and teaching process of education has also changed.
Due to the Corona curfew, the government, private schools and colleges are closed. The routine of every academic year, like completion of final exams in April and May, summer vacation, and coming back to the next academic year, has changed completely. The reason for this change is not only Corona, but also the Government. This has made it impossible for students and teachers to go to educational institutions.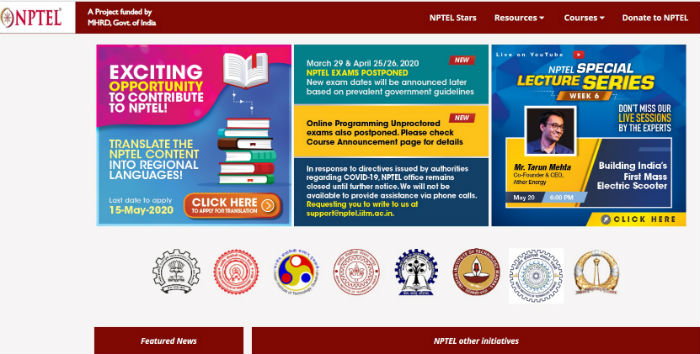 As learning and teaching methods could not be implemented within the institution, school and college administration have developed an online teaching system. This type of learning is not compatible with students of all levels. An online learning system is not possible for students studying in government schools. Computers, modern IT tools, etc., are not useful because of the lack of access to the Internet for poor students. It will take a lot of time to make it possible in countries like India, where people are not economically self-sufficient. However, we are able to see a lot of initiatives brought in to change it by making Corona as a reason.
The Chairman of the University Grants Commission has advised educational institutions to follow the following steps in learning and teaching activities:
Colleges must complete online courses by May 31st.
By June 1 to 15, oral exams should be completed for project work, laboratory practice, etc. should be completed online
Summer holidays from June 15 to 30
Examination for final year students should be completed from July 1 to 15. The results should be published by the end of the month. Other students will have to take exams from July 15 to July 31. Examination results should be published by August 14. College for senior students is due to start in the first week of August. Classes can be started on September 1 for first-year students.
The credits for the online courses studying from SWAYAM and NPTEL sources can be changed up to 20% of the total loan.
If it is impossible to take the exam on July 1, the internal mark received this year will be 50%, and the semester mark 50% will be considered as total marks. Although all the above is said to be the UGC's guidance, it has been stated that the respective Universities Guidelines for Colleges are final.
The comments made by the Chairman of the University Grants Commission are irrelevant to arts and science colleges. Bringing the principles of technical education into art education is like imposing arrogance. Persuading to learn via SWAYAM and conducting lessons based on the effect of learning on the policy of Outcome Education is known to have been practiced long ago. The idea of ​​expanding online learning teaching before and after the Corona period is problem-centered.
Some of the universities indicate that there are problems with conducting online classes. Considering the students from villages those who do not have internet access, universities announced, as questionnaires will only be available from the lesson conducted before the curfew. This shows the practical problem of conducting lessons online.
UGC Task Force has been set up to address universities, colleges, teachers, and students' grievances. Besides, it has set up an exclusive helpline to address complaints of students, teachers, and institutions on curfew. Students can register their complaints on the Student Grievance Portal, helpline number, or via email. Besides, UGC has instructed universities now to implement the pre-existing plan.
In this current environment, technical education, arts and science institutes are planning to implement course protocols in the form of video lectures and blogs developed via NPTEL. This form of the curriculum is dangerous for our current education system. In NPTEL, there are over 350 video courses and over 12000 video lectures in 10 subjects. Most of these courses consist of 40 videos and one hour each. You may receive a course completion certificate for some courses, and you can access them on YouTube and their official website. This opens the door for anyone to enter the open house, and then closes the door without allowing people to go out. For students who learn in this way, life becomes passive without continuous learning and left blank.
NPTEL (National Program on Technology Enhanced Learning), a joint venture of IITs and IISC, is funded by the Government of India to develop Internet e-learning policy. Its objective is to create a curriculum for teaching. Although it started before Corona, the Human Resources Department and the UGC thought to expand its need and application during this Corona era. As many talented young Indians (Brahmins) who are CEOs of big MNCs are from these institutes, it makes us feel proud. But we are missing to see the hidden agenda that the new education policy and plans are devised to make employers and Brahmins to lead a happy life.
Universities and colleges in Tamil Nadu during the Corona period started to take online classes with the high registration fees from the participants. Its web classes are made in the following ways:
Introduction of e-Learning practices
e-Learning structure
e-Learning infrastructure
Google Meeting and other applications
The current trend in e-Content development
All these are planned to facilitate a teacherless learning system. It does not require many teachers who are well versed in each field. Only one person as an instructor will be enough. It is taking to the point where trainers only adequate to lead the factory called education, and there is no need for learning professionals. There is no doubt in saying that this transformation will be helpful for corporates' growth instead of countries' growth.
The e-Learning process in the Corona era is a step backward from the generalized learning process. It is disrupting our current educational environment's objectives, like achieving equality through education and education towards collective action, to lead us to old Gurukula way of education conducted by Brahmins. This will dilute the continuous dialogue of direct learning with education, knowledge development, and students' intra-curricular skill developments.
In today's context, home-based learning has introduced during this Corona period within the blanket of Innovative Learning Teaching Activities. It stimulates the system of learning with unstructured teaching characteristics that makes students as separate individuals or island. This is a great danger to education when it continues after the Corona period. This online way of teaching and learning to streamline government-run schools, colleges, and universities to big corporates is a curse on education.
Although it is easy and feasible to teach students in this way, it is unlikely to reach students in full. Learning-oriented systems are not the same in elementary, higher education, college education, and research education. Each course is of different hierarchical nature, and they may differ depending on the learning protocol and policy. Incorporating one country, one language, one education, and that is via online learning, a singular form of web-based learning is not appropriate to a country like India with a lot of diversity.
In an environment where all students' economic situation is deteriorating, the e-learning policy tends to be absurd. Conducting e-Learning without regard to improving the existing education may create education as a fully profitable business. Encouraging and injecting innovative learning process without any rebuttal from people, without changing the profit-oriented operating model of private educational institutions, and without changing the basic structure of people's lives, shows the government's cunningness.
Online teaching attempts can break a healthy learning mindset. We need to know that all kinds of online learnings and teachings, like quizzes conducted online during the Corona period, are the experimental attempts by modern corporates to catch the pulse of educationalists and students.
Although the draft created before the Corona with the support of Human Resource Development department to conduct online seminars, workshops, innovative training, Corona Awareness Quiz, Departmental Quiz competition, certification, commencing the charter course, launching the profession certification, distance learning, etc., the intention is different. The background on the need for every educational institution to develop an action plan for a new way of education after the corona period curfew is to create an environment for IT companies to guide the education system. There is no doubt about this.
During this corona period curfew, the purpose of every educational institution conducting free Quiz Competitions and Training Workshops initially is to create a mood in which everyone attends and then to bring the point where the registration fee is a must. Its operations are focused on the number of users in e-Learning, which leads to more profit. This can lead to educational institutions, and students forced to teach and learn at home. The examination will also be conducted at the home of choice. Since these exams are computer-based, only objective type questions will be set. Memorizing the answers to questions alone does not expand the process of knowledge. It is necessary to understand that, in this way, we could not create the understanding of the social dialectics and human liberation.
The educational environment is evolving, as certificates in e-Learning are now sent immediately via the Internet. Learning in this way develops the worst learning outcomes and divides the relationship between learning, learning environment, teacher, and students. Educating through machines creates an environment to produce mechanized learners.
In this situation, there are two levels of online education. One is to program the lessons for the curriculum in advance, and the other one is teaching subjects for the curriculum through departmental personnel by using apps like Google meet. Both functions are like a merchant and seller selling a product in different places. In addition to that, the web apps run only the reported program and would not create a chance to learn current social events and not develops love and moral values. Education will not help to develop ethical values. If a person conducts a lesson via the Internet, learners will be advised not to speak any information other than the lesson. The freedom and rights of teachers and students will be taken away in this type of teaching and learning.
In this situation, corporates will make education an instrument to earn money. The responsibility of providing education to people will be taken away from the government, and the necessity of teachers will be eliminated, which decreases the employment rate. At present, the bulk amount spent, as wages payable for public service teachers, will go as unnecessary expenses. Is that what the Government thinks? That is why the Government encourages the development of e-Learning with the help of technology through the Human Resource Development Department. Due to the recent increase in the usage of a video conference (in Google, Zoom, etc.), IT companies are becoming highly profit-oriented. Stimulating young children to learn through the learning apps will stagnate them and additionally create depression.
As doing jobs online, educators and private enterprises have begun to teach play-learning and training via apps. It is a new venture to adapt the play to the modern technological age, but it distorts the play's inherent essential aesthetics. Drama is the direct interaction between the actors and the audience. This direct interaction creates various dialectical relationships. It could be native to it by going its own way.
Like using the Internet for cooking, all drama enthusiasts should play a role in preventing drama from becoming so. During this Corona time, not teaching play via Zoom, YouTube, Google meet, or any other apps does not mean that the play will be ruined. During the curfew, engaging in activities like creating a copy of the play by theatrical actors and directors, preparing theatrical material for plays, will help for post-curfew operation. Drama rehearsal is not meeting and discussing on the same day. These are in direct contact with the actors and the theater director each time. This program of online play learning, teaching, and training can dilute the direct communication of theater. Even though theatricals understand that theater learning is for direct exchange, the practice of online theater training by a few theatricals shows their reactionary nature.
We have to watch that every move is centering towards earning profit post corona recovery. We need to realize the actions taken by the Government against people on all platforms and react. The fact of the matter is that we live in the worst political environment, rather than a harmful microorganism called the Corona.
We have already seen that the state takes over the liquor stores from the individual, and the Government held education given to the private sector. Today, all public departments like educational institutions, medical departments are handed over to corporates. We must realize that the changing environment is not for the growth of human society.
Although e-Learning is entirely not feasible, probably implementation of e-learning will accumulate more money to big corporates packet, rulers will partner with them, and finally education will depend on their interests. Ethical values-based assessment education for the people will be pushed back. Education for poor students will become a dream. The priority given for education and employment for the oppressed, tribal, backward and most backward people will be completely discontinued.
In these circumstances, whether academics or progressives are fighting against Corona or not, they need to feel the importance and to fight against changing the educational environment, big corporates entry in education, and Brahminism in the writing as well as field. We need to know that this Government is not for the people welfare, but just doing politics and seeking profit by using the name of the pandemic.
From the time acquiring rights and possessions through education, we are losing everything little by little and preparing for life moving towards death. On the one hand, the changing educational environment, on the other hand, casteism and religiosity are growing up. It is not allowing human society to unite. We have to think that the emerging e-learning system even after the Corona period is not for social development but human decline and act. To get rid of this lousy environment of life, everyone must identify viruses that are more harmful than Corona, conquer the dawn of human sociality through education, and build the human community for well-being.
Written by M.Karunanidhi, Assistant Professor
Translated by Devi Kalaiselvi
(This article was originally published in keetru.com on 21-May-2020)
---
You can send your articles to This email address is being protected from spambots. You need JavaScript enabled to view it.
---