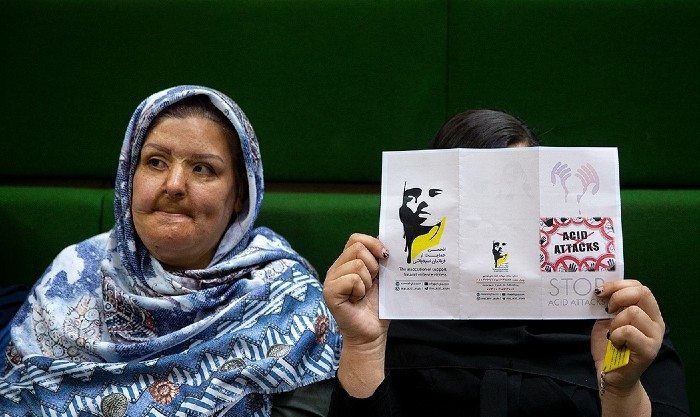 We discuss here the role of the victim and the people around
It is very easy to minimise the damage!
All the instructions given below look too many and too long!
They are common sense aspects. It is easy to learn and handle.
All of us should read so that we attend on the victim efficiently and save.
In most acid attack cases, often, people known to the victim only are the attackers. There could be prior indications of the nature of the attack – acid, knife, poison, kidnap and rape etc. Prepare yourself for all situations. The victim should inform the police and the team to prevent such an attack. Do not hesitate to inform more number of times depending on the threat.
The face is the most common target of the attacker, and the face is the most delicate area of the body with essential parts of the body. Protection of face is the most important step.
Look around for good water resource – preferably a garden hose, a tap, a pond (be careful of mud, drowning etc.) and people who could help.
Use different techniques to prevent /delay the attack (a) pretend to agree to the attackers' demands (b) divert the attackers' attention (c) use dupatta/chunni, umbrella, vanity bag to protect your face. Raise the protecting object, not in advance- timely movement is essential.
All women who suspect such attack should carry a 100 ml liquid detergent bottle in their handbag. Liquid detergents are mostly alkaline. e.g. Genteel, Surf excel, Ariel are the commonly available liquid detergents. Keep the seal broken and check that it is not leaking.
After the attack – do not delay the following steps:
Do not rub the area where acid fell. Wipe gently and quickly. Do not use the same cloth containing acid at other places of the body. Throw the used cloth.
Water is your greatest savior. Run to the water source.
If there is a garage where scooters and cars are washed, that is the best place. But no strong jet to touch the body… slow down water by putting hands or such in the way.
Gentle water stream thru a garden hose/pipe is excellent.
Never use small quantities of water to wash- it worsens the damage. Do not use drinking water bottle of a half litre, one litre and such small quantities of water. Small quantities of water reacting with acid will generate heat.., causing more damage.. Never allow anybody to pour small quantities of water on you.
Ask people to pour water with buckets/big containers.
The face is the organ to be washed first. DO NOT RUB.
If acid entered eye: wash with plenty of gentle water splash outside the eye first..then open eye- even if it is burning- wash with plenty of water. Tears will also help neutralize acid! Cry out tears!
If the nose is involved, do not wash with head tilted back!!! Tilt head down and splash with water..be sure you do not breath in acid water.
Let enough water wash the face and neck.
Do not hesitate to remove external clothes if it has fallen on the upper part of the body.
After sufficient water has been used to wash, with your finger touch each area and lick carefully- sour taste means the acid is there! Wash with more water. Gentle rubbing now is ok.
Now use the liquid detergent: never concentrated/undiluted detergent to be used! Dilute in a bucket full of water and pour the soap water on all affected parts. DO NOT RUB. Soap neutralizes the acid effectively.
Take care during water and detergent wash your nose and mouth are washed, but breathing is not blocked- also any swallowing of large quantities.
Again wash with plenty of gentle water stream/splash/dip till soapy feeling is gone.
Now go to a nearby hospital. From there itself and lodge police complaint.
***
(About Dr M Bapuji : An activist who was a Retd. Senior Scientist, CSIR 1973-2002 (30 yrs), in Odisha, with vast experience across several disciplines. Born 1948, had a Ph.D. in organic chemistry, he guided six to Ph.D in varied cross disciplinary subjects, and was associated with various universities and an IIT. Has published 70 papers, holds 6 Patents, transferred 9 technologies to industry, helped stop imports of a group of chemicals. He discovered a 80 km-long ridge reef off Odisha coast, reported about 140 sponges, corals etc for the first time from this reef. Established lab for microbes associated with sedentary fauna. Studied over 1200 microbes from this resource. Was General Secretary (3 yrs) and President (3 yrs) for All India CSIR Scientific Workers' Association (SWA) affiliated to the World Federation of Scientific Workers. He was Director of a rural PG centre at G.Mamidada for five years; senior academic consultant for Nannaya University and for The University of Trans-Disciplinary Health Sciences and Technology (TDU), Bangalore. In recent past he was a Visiting Professor and Research Adviser, Acharya BM Reddy College of Pharmacy, Bangalore. Worked on fluorosis voluntarily with Fluorosis Mitigation Research and Resource Center (as Scientific Adviser, FMRRC, Hubli, Karnataka, founded by Dr. KS Sharma). Working on improvement of tribal schools, education, labs, faculty in W.Godavari dt(AP). Currently based at Hyderabad. Has contributed to countercurrents.org, mainly on fluorosis.
E-mail :This email address is being protected from spambots. You need JavaScript enabled to view it.
---
You can send your articles to This email address is being protected from spambots. You need JavaScript enabled to view it.
---